Fixed Hybrid Kit – Single Kit – Green
$40.95 – Save By Purchasing Together!
For: Fixed Implant-Bridges, All-on-4, All-on-X
Includes Cleanadent Paste, Dental Prosthetic and Mouth Toothbrush, Cleanadent Denture, and Gum Wipes.
Feel Clean, Refreshed & Moisturized
Includes:
Cleanadent Denture and Gum Paste
Cleanadent Denture and Gum Wipes
Dr. B Denture and Mouth Tooth Brush
Ideal for Fixed Implant-Bridges (All-on-4, All-on-X)
Units per SKU: 1
1. Apply Cleanadent Paste to the Dr. B Toothbrush
2. Thoroughly brush the prosthetic, mouth, gums and tongue
1. Use the Cleanadent Wipe with your finger to clean around the prosthetic, the mouth and tongue
2. For best results, use a separate wipe for cleaning the prosthetic and the mouth
For more information visit our clean tips page.
Developed By A Dentist, Recommended By Dentists
See why thousands of dental professionals recommend our cleaning system!
"What amazing products. Highly recommended! A whole system which my patients can use for all dental prostheses.. Patients love the adhesive "it holds my denture better". The cleansing paste removes the adhesive in an effective manner, and the Cleanadent Crystals are a must for all those who wear a dental appliance!"
DR. Israel Finger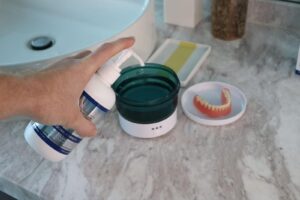 Are you a denture professional?
"thanks for creating such a great product. My patients love the Cleanadent Liquid Crystals and the Dr B Sonic Cleaner. I love the fact they can order online without me having to keep it in stock. Several patients have told me it makes thier appliances smell and taste better. It has also helped a few with some fungal issues. Great stuff Lorin. Thanks we needed this."
Dr. Mitch Conditt
Real Customer Testimonials