Liquid Crystal Soak Cleanser – Travel Size 3-Pack
$18.95 – 2 OZ, 10 Cleanings
Disinfecting Dental Appliance Cleanser
The Only Cleanser That Kills Candida, Strep, Staph, E. Coli & Other Dangerous Pathogens
Eliminates Odors, Stains & Debris
Helps Prevent Thrush, Stomatitis, Cheilitis & Pneumonia!
Safe for Snap In Dentures with O-Rings
Ideal for Dentures, Partials, Retainers, Aligners, Sleep Appliances, TMJ Devices & Guards
Description
$18.95
Disinfecting Dental Appliance Cleanser
The Only Cleanser That Kills Candida, Strep, Staph, E. Coli & Other Dangerous Pathogens
Eliminates Odors, Stains & Debris
Helps Prevent Thrush, Stomatitis, Cheilitis & Pneumonia!
Safe for Snap In Dentures with O-Rings
Ideal for Dentures, Partials, Retainers, Aligners, Sleep Appliances, TMJ Devices & Guards
Units per SKU: 3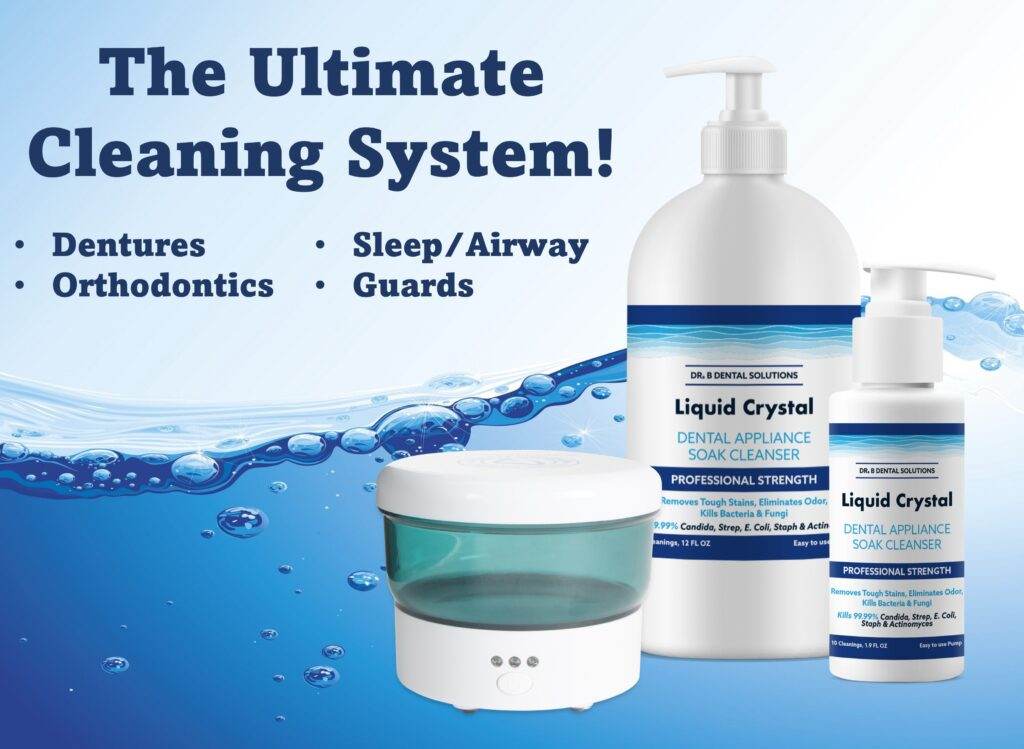 Highly Effective Mechanical Cleaning
The Dr. B Ultrasonic Cleaner uses high-frequency sonic waves to mechanically clean dental appliances. This device helps loosen debris, remove biofilm, stains and plaque.
Always Use A Soak Cleanser
The Ultrasonic Cleaner should always be used with a soak cleansing product to fully disinfect dental appliances. When used together, the Ultrasonic Cleaner helps the Liquid Crystal Cleanser penetrate the porous material of dental appliances for a deeper clean.
The Dr. B Ultrasonic Cleaner has 3 timer settings. Press the power button consecutively to set the timer for 5 minutes, 10 minutes and 15 minutes. When the cycle is complete, the device will shut off automatically.
The Most Effective Denture Care System Ever Invented
Everything A Denture-Wearer Needs In One Package
Whether you are new to dentures, or want to take the best care of your existing dentures, this system has everything you need for your health, hygiene and comfort.
The Only ADA-Accepted Denture Care System
As a 40 year member of the ADA, Dr. Berland made sure his products earned the ultimate mark of quality & trust – the prestigious ADA Seal.
Designed With The Denture-Wearer In Mind
Our products are tailor-made to solve the most common, yet serious, issues impacting the lives of denture-wearers. Dr. Berland developed this system through 40+ years of listening to patient needs.
Improve All Aspects Of Denture Living
When used together as part of an effective daily routine, this system will help prevent infections, dry mouth, soreness and other issues unaddressed by other denture care brands.
Always The Highest Quality Ingredients
Our innovative formulas combine modern science with time-tested natural remedies. Clean, Soothe & Moisturize with Aloe Vera, Coconut Oil, Tea Tree Oil and Vitamins A, D & E. Our Liquid Crystal Cleanser fully disinfects without harsh chemicals like bleach, alcohol or chlorine.
Watch Dr. B explain how to use the Denture Solution Kit
Frequently Asked Questions
Can it be put in a dishwasher?
Yes, the bowl is dishwasher safe.
Does it clean both the top and bottom at the same time?
What is the best method to clean the tank?
The dishwasher is the best method, but if you don't have one, you can wash the bowl with dish soap and water. Rinse it thoroughly and let it air dry.
Does this product help to eliminate the unpleasant taste and odor that trays develop after a few days?
Yes, it does. Trays should be changed to oral appliances.
Is it safe to use this product on clear retainers?
Does this make any noise?
There is very little humming noise.
What items should not be placed in an ultrasonic dental cleaner?
The ultrasonic cleaner is safe for all removable oral appliances.
What liquid should be used in a dental ultrasonic cleaner?
Water is fine, but any denture cleanser can be used. The cleaner works best when paired with Liquid Crystal Soak Cleanser from Dr. B Dental Solutions, but it can be used with any soak cleanser.
Fully Clean, Disinfect & Deodorize Dental Appliance using the powerful Liquid Crystal Soak Cleanser and Dr. B Ultrasonic Cleaner.
Brush Dentures & Mouth with Cleanadent Paste & Dr. B Denture Toothbrush.
Use Cleanadent Wipes for portable hygiene at restaurants, the office or with friends.
Apply Adhesadent Denture Adhesive For Powerful, Long-Lasting Retention. Clean & Reapply After Meals.
The Denture Care System Trusted By Professionals
Thousands of Dental Professionals Highly Recommend Dr. B Dental Solutions
"What amazing products. Highly recommended! A whole system which my patients can use for all dental prostheses.. Patients love the adhesive "it holds my denture better". The cleansing paste removes the adhesive in an effective manner, and the Cleanadent Crystals are a must for all those who wear a dental appliance!"
Are you a denture professional?
"Finally, someone put together a complete system that really helps my patients who use appliances of any sort. In my practice, we have made the complete switch to Dr B's Dental Solutions much to our patients' satisfaction.
Dr. B's products have been a welcome improvement in Cary Prosthodontics for improving the daily experience and hygiene for our patients."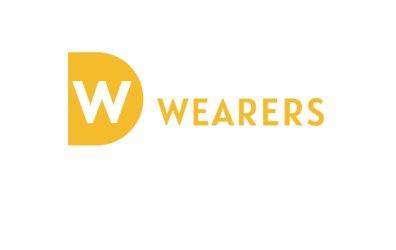 Money back guarantee

Free delivery
24/7 support
Clinically backed
ADA accepted
Many Reasons To Love Dr. B Dental Solutions