Denture & Mouth Toothbrush 3-Pack
The Revolutionary New Denture & Mouth Toothbrush Is Here!
Revolutionary New Design
Dual Sided Head for Grooves and Hard to Reach Spaces
Extra Soft Bristles Safe for Dentures, Implants, Overdentures & Mouth
Ergonomic Grip Perfectly Fits Contours Of Hand For Comfort & Stability
Units per SKU: 3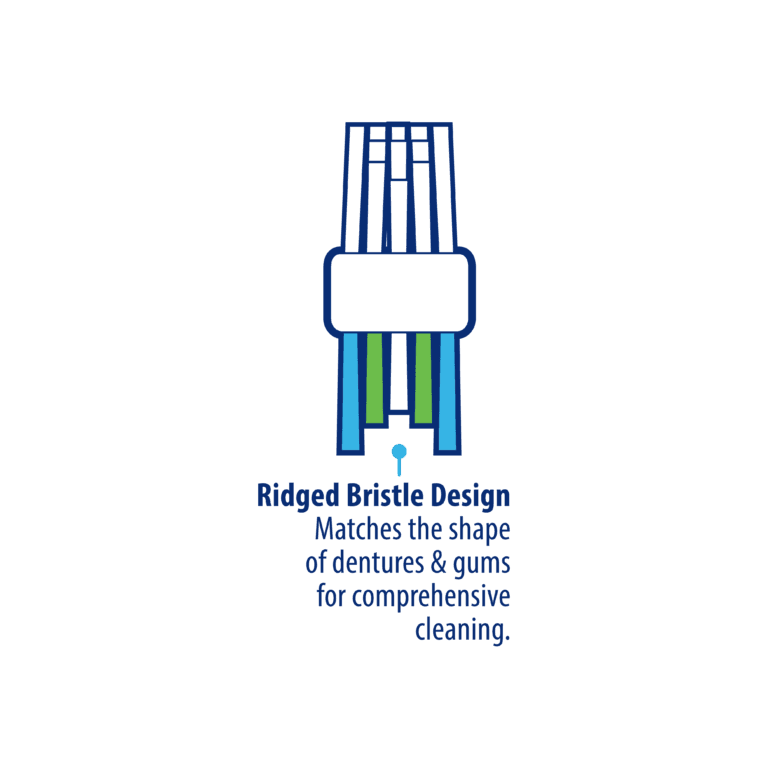 A Denture Brush That Actually Works!
Regular Toothbrushes and Denture Brushes have stiff bristles that are too abrasive for dental prosthetic materials. These can actually damage dentures, overdentures & all-on-4s, ruining the shine and color.
Extra-Soft Bristles. Innovative Dual-Head Design.
The Dr. B Denture & Mouth Toothbrush is tailored to safely and thoroughly brush all the grooves, ridges and hard to reach spots of dental prosthetics. Perfect for brushing inside and outside the mouth.
Pair with Cleanadent Paste for the Ultimate Brushing Experience!
Cleanadent Paste is the only toothpaste specially designed for safely cleaning dental prosthetics. Cleans, Soothes & Moisturizes the mouth with Aloe Vera, Coconut Oil, Tea Tree Oil and Vitamins A, D & E. Completely eliminates pathogenic biofilm, debris and odor.
Dr. Berland Introduces the Revolutionary Denture & Mouth Toothbrush
View instructions on how to use the Dental Prosthetic & Mouth Toothbrush to clean your mouth.
3. Add "Cleanadent" to an extra soft toothbrush
4. Gently brush gums, tongue and around implants/locators (if applicable)
5. Rinse thoroughly with water. DO NOT SWALLOW
For more information visit our clean tips page.
To Clean Dentures, Partial & Overdentures​
View instructions on how to use the Dental Prosthetic & Mouth Toothbrush to clean your dentures.
1. Add "Cleanadent" to an extra soft toothbrush
2. Clean dentures over a sink containing water
3. Brush all surfaces well
4. Rinse thoroughly with water
For more information visit our clean tips page.
To Clean Fixed Implant Dentures
View instructions on how to use the Dental Prosthetic & Mouth Toothbrush to clean your Implant Dentures.
1. Add "Cleanadent" to an extra soft toothbrush
2. Brush your teeth as your own
3. Rinse thoroughly with water
5. Cleanadent wipes are helpful around the edges
For more information visit our clean tips page.
Real Customer Testimonials
I love, love this toothbrush!!!! I am a firm believer in all of Dr B's products.
Great Products!
Rachael N Karl 
Verified Buyer
O.M.G Dr. B!! Your products are AMAZING! Nothing at the store compares! I love what your products do in keeping us healthy with beautiful smiles!
I have tried so many denture adhesives & cleaning products, and nothing worked! Then I found Dr. B Dental Solutions. They have the BEST denture adhesive and cleaning products. The Adhesadent keeps my dentures tight all day, and I'm able to eat anything I want!
our toothpaste is amazing I love that it's not real minty- just the right flavor and it does an excellent job . Your new toothbrush is great!
I love all these products! I ordered a sleep appliance for snoring, and the dentist prescribed Liquid Crystal and an Ultra Sonic for cleaning the appliances. I also use them on my dentures. The Cleanadent Paste & new Denture & Mouth Toothbrush are awesome for cleaning and the Adhesadent adhesive helps my dry mouth. Your products have significantly improved my oral health. Thank you, Dr. B!
That toothbrush is awesome 🙂!!
I have been using Dr. B's products for a few months now, and am very pleased with the service I have received, as well as the products themselves. I use the denture paste, the cleaning crystals, the soft toothbrush, and the sonic cleaner. Very pleased! Thank you!
Francis S. 
Verified Buyer
OMG!!!!! Dr B has done it again!!!! This toothbrush is the BOMB!! To quote the younger crowd!! It is so comfortable in my hands and the bristles are so soft. I will be ordering yet another item!!! THANK YOU!!!!
Hi Dr B... I'm so excited to order this toothbrush. I know it's going work great coming from you. Thank you so much! I enjoy all your products👍🏼
I jjust got the brush so I just ordered the denture kits with the new brushes for me & all my denture wearing friends for Christmas. They're going to love it! I know I will!
I just LOVE this brush. ❤❤❤ Thanks for another great product. Happy Thanksgiving.
Barbara H
Verified Buyer
It is the best toothbrush I have ever used!! AND THANK YOU FOR MAKING THE DENTURE BRUSH NOT ROCK HARD!!!!!
Heather B 
Verified Buyer
I absolutely love love love Dr. B's dual action brush! The design of the handle is so perfect, I especially like the way it bends in and is not straight like normal denture brushes. As an "older" denture wearer, my hands have a hard time gripping smaller things at times, the large knobby handle eliminates that problem. The soft bristles are so soothing on my gums and tongue that I find myself brushing them longer just because I love the way it feels. Omgosh I could go on and on about this brush! I stand with Heather in recommending Dr. B's duel action denture brush!
I love Dr B's toothbrush! The fact that I can use it on my dentures AND my gums...perfect! The old denture brush is in my bathroom sink cabinet to clean nuks and crannies in my house because it's perfect for that
"I bought a $2,500 dental appliance for obstructive sleep apnea 2 years ago. Luckily my dentist, Dr Steven Wilk, had your product for sale: Liquid Crystal Soak Cleanser. I used it every morning and now I'm praising it's work to everyone I know with an appliance. My appliance looks like new--no stains or build-up and all I have to do is use a very soft toothbrush to remove any adherents. "
Just want you to know that you not only have the best products on the market, you have the BEST customer service!
I ordered the Dr. B's products that I've heard people say such great things about. I've always been obsessed with cleanliness and had just bought one of the ultrasonic cleaners a few weeks before that. I might use it too frequently, lol. Anyway, my point here is, if you haven't tried Dr. B's products like I hadn't before learning about them through the internet, I highly recommend trying these products out! What a difference!! I've always been what I call a "product junkie," & I have countless tubes of toothpaste, Efferdent tablets, stocked up on electric toothbrushes, etc. but Every item in the Dr. B Denture Kit I ordered is AMAZING, and the only regret I have is not ordering sooner! Remember that clean feeling after a good cleaning from an oral hygienist? That's what I compare the clean feeling to after using these products. Even better, the entire kit I got cost me less than all those products I USED to buy...thinking I was buying the best. I was wrong. This stuff is superior in every way! Thank you, Stephanie, and anyone else who recommended it!
Your products are the very best. I love the cleansing wipes to carry with you. The cleaner is absolutely the best. I love the new toothbrush. Friends if you don't have it, you need to order today. I just love it all!!
So at the recommendation of Heather B aka The Denture Diva, I ordered the Dr. B kit. It came in yesterday and came with way more than I was expecting. It literally included one of each of his products including a travel size Crystals solution. I've been wanting a sonic denture bath since before eday and immediates. I started out last night using the sonic denture bath and liquid crystals and this morning starting with a new ultra soft tooth brush and new denture brush using the cleanadent not only to brush my dentures but also my gums, palate and tongue followed by applying the adhesadent and I must say I'm quite impressed with the mild yet fresh flavor of it all. If only he made a mouthwash that would be great. If you'd like to try these all natural products be sure to use the DENT promotion for 20% off your first order.
Cynthia Rose
Verified Buyer
Hi Dusty! I have had my full dentures since 9/6/17 and have used your products since then. I feel safe and protected and will not be without them! I do recommend them every chance I get. I even gave a brochure to my dentist to include you in their handouts to new patients. Not only do I order from your site, my FSA now offers your products! Double win! I will share everywhere that I can, as I feel that strongly about Dr. B Solutions. I was excited when I saw that Dr B had developed a new brush!
I love Dr. B's Dental Solution! Every product they make is fantastic! I have had issues with thrush every since I got my upper denture, and Dr. B's products are the only products on the market that have helped to alleviate it. Also, Dr. B and the entire staff are so friendly and always available to answer any questions; their customer service is A+. I give 5 stars to both Dr. B's Dental Solution's products and their customer service! Thank you guys so much for making my denture and implant denture journey so much easier! 💕❤️ You guys rock!
Stephanie S
Verified Buyer
I received my kit so fast. I ordered on 4-18-20 and got my kit today 4-22-20! Thank you so much!!! It was like Christmas and immediately tried it out and already love it and the adhesive is so amazing (6 hrs in and hold strong)nothing else has worked to keep my teeth in! I was able to actually eat with my teeth not moving around!! I have lupus and have gotten thrush so much and Im so excited to try this product!!! Thanks again!!!!
Best products I have ever used. It is unbelievable how good it works. Get some today, you won't regret it.
Sharon Holton 
Verified Buyer
In the last year, I lost all my teeth. The hardest thing for me was a thought of wearing dentures. I knew nothing about it and had to do a lot of research. Before my doctor at Clear Choice took out and put in my new teeth, he gave me a package that had all of your products in it, so I had a start. I came home and looked you up and read all I could. One of the things that you have helped me with is my dry mouth. It was a big problem, but now with the Adhesadent things are a lot better! Thank you for creating such an amazing product!
Andrea Griffin
Verified Buyer
The best products I've tried for cleaning and adhesive. I love the cleaning paste also, it makes my mouth feel so clean! And their customer service is seriously AMAZING. My most recent order either got delivered to the wrong address, or got stolen off my porch. I emailed Dr B's to see what my options were. I got a personal phone call to verify my shipping information and they sent out a new package. Not only that, but they also sent me about 5 extra products and no charge. WHAT?! So amazing. Thank you Dr B and team, y'all are amazing.
Shayna J.
Verified Buyer
"Your products are great! I love Cleanadent Paste & the toothbrush for my hybrid denture. The double-sided brush is very beneficial since I have a space between the hybrid and my gums that the smaller brush really helps with. The wipes are fantastic. I can't take my hybrid out of my mouth but, since these are still acrylic, food gets plastered to them, especially between the teeth. Brushing isn't discrete or convenient so I've been keeping the wipes in my purse to handle on-the-go cleaning!"
Kristi Lind (Kalinjax)
Verified Buyer
Omgoodness. Today I got to use the new Dr. B's sonic cleaner. It was so nice to set it and forget it. I also used the tooth/gum/denture brush. Wow-what a difference to use one brush and one paste. If you're like me and had Dr. B's solution sitting on the side until you finish what you have, just skip right to it. It is amazing. Dr. B is incredible! They need a subscription plan. Because I don't see using any other brush, paste or sanitizer/cleaner.
I have Sjogren's Syndrome so using the Cleanadent Toothpaste with the new Denture & Mouth Toothbrush on the inside of my mouth after I take out my dentures has had a noticeable effect. My mouth seems soothed after using it. Sometimes I use it twice a day because it feels so good afterwards. I also brush my tongue with the paste and the result has been remarkable - no more black, and much less white. Very impressive.
MaryLou Martin
Verified Buyer
Dr. B's Cleanadent Paste is the Best stuff ever for coffee stains ! And I LOVE the new brush🤗 !!
Jennifer W
Verified Buyer
Brilliant 💚 Thank you... Happy Healthy Thanksgiving to you and your family.... Don't forget the Cleanadent Paste..
Margaret C
Verified Buyer
This and the Cleanadent paste are the only things I use on my dentures. It's awesome!!
Sherri G. 
Verified Buyer
I have been using all of your products for almost 4 years now and am glad I do My mouth feels so much better. Thank you, thank you, thank you!!!
I use all of the Dr. B cleaning products and would recommend them with 5 stars. In 14 years, I've used Efferdent, Polident, and Fixodent cleaning tablets and Polident Dentu-Creme and Fresh N Brite denture paste and switched to Dr. B products in June. Now I only use Dr. B Dental Solutions. I will never go back to the other products.
Crystal W 
Verified Buyer
I also use Dr. B exclusively and I have had zero issues. No sores, not one, no dry mouth, no weird anything. I have healed perfectly and I know it's from his stuff. The only thing I use outside is my antiseptic mouthwash. That's it. Dr. B's is good stuff.
Omgosh! Dr. B is a game-changer for us denture wearers!! I use his products exclusively!!!
I'm really young (for dentures) or so I feel I am. I'm only 34 so having to go through this whole process has been really depressing. My teeth started to fall out after cancer. But since finding Dr Bs dental solutions, it hasn't been anywhere near as bad as I thought it would be! I truly appreciate having a product that someone put so much thought and care into! Dr B supports denture wearers like me. He's such a kind man! Thank you so much! I'll definitely be placing more orders in the future!
Lorin Berland I just want to tell you that I absolutely love your products!!! I want to purchase the full package but I have to save a little more first. I have the adhesive, tooth paste, and the wipes. They are all amazing!