Cleanadent Denture & Gum Wipes – Box
$20.95  – Box (30 Wipes)
Moisturizing Cleansing Wipes
The Only Moist Wipes for Cleaning Prosthetics & Gums
Perfect for Restaurants, The Office, The Car or Anywhere Else
Individually Packaged For Portable Hygiene
Cleans, Soothes & Moisturizes with Vitamins, Aloe Vera, Coconut Oil & Tea Tree Oil
Great at Removing Denture Adhesive, Stains, Food & Odor!
Product Description:
Cleanadent Denture & Gum Wipes are a convenient and portable solution for cleaning and refreshing dentures and gums on the go. These individually packaged moist wipes contain a formula infused with Aloe Vera, Coconut Oil, Tea Tree Oil, and Vitamins A, D & E, making them the only moist wipes suitable for cleaning prosthetics and gums.
Feel Clean & Refreshed - Anywhere!
Individually packaged moist wipes easily fit in your pocket or purse so you can take them anywhere! Bring it to the office, restaurant and more for hygiene on the go!
Clean, Soothe & Moisturize - With Just A Wipe!
Our innovative formulas combine modern science with time-tested natural remedies. The Cleanadent Wipes are infused with a healthy solution rich in Aloe Vera, Coconut Oil, Tea Tree Oil and Vitamins A, D & E.
You'll immediately the refreshing sensation that soothes & moisturizes
the mouth.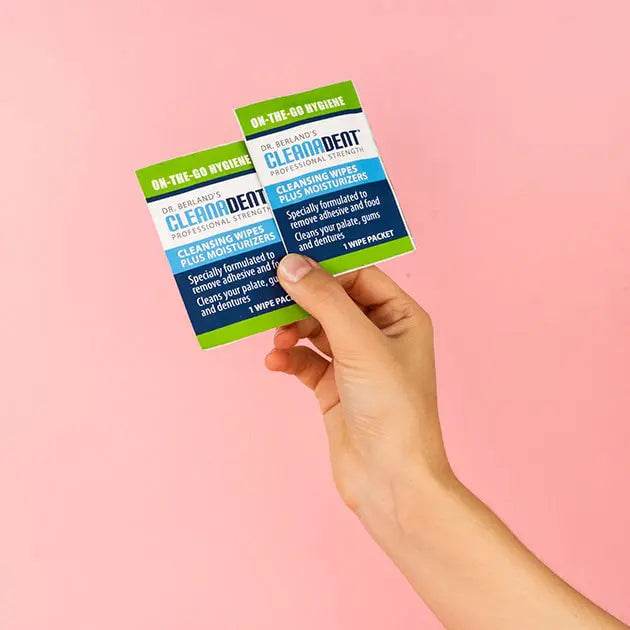 Eating With Dentures Has Never Been Easier
One of the most common issues experienced by people with dentures & implant-bridges is difficulty cleaning after meals. Food gets stuck, and there's no way to remove denture adhesive when out and about. Now there's a solution!
Frequently Asked Questions:
Can these wipes be used inside the mouth or outside the mouth?
Yes, the Cleanadent Denture & Gum Wipes can be used both inside the mouth and outside the mouth on the denture.
Can these wipes be used for cleaning implant-bridges?
Yes, these wipes can be used for cleaning implant-bridges and prosthetics.
Do I need to rinse my mouth and denture with water after using these wipes?
Yes, it is recommended to rinse your mouth and denture with water after using these wipes.
Can I use the same wipe for cleaning both my denture and mouth?
While you can use the same wipe for both, it is recommended to use a separate wipe for denture and mouth, for best results.
View instructions on how to use the Cleanadent Denture & Gum Wipes
1. Open Wipe Packet
2. Use Finger to Clean Mouth and Denture. Works Inside The Mouth Or Outside The Mouth.
3. Remove Any Food or Denture Adhesive.
4. Rinse Prosthetic and Mouth with Water.
5. Rinse thoroughly with water. DO NOT SWALLOW
If removable, use a separate Wipe for Denture and Mouth. Add water to the Wipe for further moisture.
For more information visit our clean tips page.
Moisturizing cleansing wipes that clean, soothe and moisturize dentures and gums with just a wipe.
Individually packaged for easy portability and hygiene on the go.
Infused with natural ingredients like Aloe Vera, Coconut Oil, and Tea Tree Oil, along with vitamins for a refreshing sensation that soothes and moisturizes the mouth.
Effective at removing denture adhesive, biofilm, stains, food, and odor.
Perfect for restaurants, office, car, or anywhere else where hygiene is essential.
Real Customer Testimonials
Hi All! I wanted to give you all my opinion on a new product- Dr. B CLEANADENT WIPES for adhesive removal. This stuff is the best!! I have tried so many different techniques for removing the adhesive from my gums - everything I've tried works but they are all more tedious. This stuff was easy and fast. You use a pre-moistened wipe and rub your gums - when I removed the wipe from my mouth the adhesive was on the wipe!! Great stuff - I highly recommend it!!
Renee Dallman
Verified Buyer
You can buy Dr B's wipes I use them anytime I am not able to brush, & waterpik. I also swish liquid around in my mouth to get the food particles out from underneath my bridges then I spit it out. Worst case you can still bring your toothbrush and paste with a bottle of water and a empty bottle so you can brush and rinse with the water and spit into the empty bottle
My New and improved Dr. B's ultrasound cleaner arrived today and it is absolutely AMAZING! I truly love it. The upgraded version has a screw-on lid, removable dish (like the previous one), & has a timer in 5/10/15 minute intervals. It also comes with a USB cord and batteries so you have the option of using either one. (I have a portable battery from Walmart for 10.00 that I use to charge my phone when away from home and it works perfectly with this cleaner). This new ultrasonic cleaner is so much sturdier and doesn't "walk" along my countertop like the other one did. It cleans my full dentures very well and is hands down worth every penny. I also bought more of the great denture/toothpaste; adhesive and cleaner both liquid and small wipes. I love - love - love these products and this company. These are really great products and the customer service is above reproach. Thank you Heather Byrnes for introducing me to these products. I hope someone else will see this and decide to try them for themselves. Please check these great products out! PS - Thank you, Dr. B and company!
Rachael P
Verified Buyer
When I got my kit I immediately packed away all the things I was using and moved to Dr. B products and I must say that I love them and I am very excited to receive the new UltraSonic cleaner. The wipes have made it very easy to remove adhesive from my gums, which is a blessing, and the adhesive works better than any I've ever had. The Cleanadent is wonderful since I can use it on both my dentures and my gums. I could go on and on but I'll spare you. I hope you have a great week. Blessings
I bought these products for my fiancee who newly has dentures. She heard about the Dr. B products on YouTube and ordered multiples of various products right away! The package arrived the next day! She was impressed as was I! She quickly began unboxing, reading about the products usage etc.. and tried them. She immediately began telling everyone, even people online, about these amazing denture products made by a dentist. She loves them so much she can now quote (& does so often that people probably wonder if she works there or is sponsored! Lol!) However, she is quick to say she is giving an honest review of denture products that really work! They keep you healthy while keeping your dentures healthy and sparkling clean! They are also all natural and the adhesive doesn't taste chemically like other adhesives on the market! It must be said that she loves telling them how amazing the prices are, stating that they are very affordable and well worth what they cost! She explains what each product does, the cost and the promo code for new customers! She was upset she didn't order the sonic cleaner the first time so I ordered her the kit. She hadn't tried the wipes yet either so she was excited for those also. She loves the sonic cleaner and the wipes too and now gives everyone all the details of what the kit includes and the price as she raves about how it is the ultimate deal to test everything at once and cheaper to go the kit route also. She even has our 10 yr. old son using the wipes. He loves the wipes just to freshen up if he can't brush right away. He says they make his teeth feel so clean and taste good too! He now asks for them and has his own stash! We will continue ordering from Dr. B and highly recommend anyone with dentures, implants, etc. do as well!
I got a sample of denture wipes at office. Loved them! I will try more things.
I cannot say enough good things about these products. I have and still do, use every single thing they have. The Cleanadent Wipes are absolutely the best to take with you wherever you go. I keep a couple of packs in my purse all the time. You will not be disappointed in anything you order from them. This is the Best company and Best products I have ever used. Try any of them and you won't be disappointed!! I love the Cleanadent Wipes . So easy to take with you and keep in your purse or pocket. Can't do without them. The Liquid Crystal Soak is the Best cleaner that I have ever used. You can tell such a difference in how they feel. Such a clean feeling. I love it. And I LOVE the Sonic Cleaner. Just put your dentures and cleaner in and turn it on. Cleanest they have ever been
Dr. B wipes are amazingggggg at just taking off adhesive with ease
Heather B
Verified Buyer
I used Dr. B's Cleanadent Wipes on the powder residue on my gums, and it worked like a charm! They are very convenient and SO much better than what I used to use.
Rohonda H 
Verified Buyer
I tried a plethora of OTC products during the temporary implant denture phase & also while l wearing partials prior to starting the implant process & wasn't satisfied with any of them for numerous reasons. Upon receiving my permanent implant dentures, December 2020, my doctor gave me the Cleanadent Paste & wipes to try. The products are Amazing! My mouth, dentures & implants feel clean & fresh. Products are gentle, natural & I no longer suffer with dry mouth, which was a major problem. I can't wait to try the other products! I definitely will be recommending to others. God bless you Dr. B
Susanne Conlee-Hays
Verified Buyer
Your products are the very best. I love the cleansing wipes to carry with you. The cleaner is absolutely the best. I love the new toothbrush. Friends if you don't have it, you need to order today. I just love it all!!
I been using Dr Bs dental solution products for about a year or so an im so happy to have found this amazing product.. I use the paste that makes my mouth feel so clean , I also use the cleanadent to disinfect my plate this liquid crystal kills all the germs an eliminates odors this is the best I love it... I also have use the cleanadent cleansing wipes on the go these are great when you go out an eat give yourself a good wipe an have a clean mouth afterwards... thank you dr bs for this great solutions to keep my mouth feel clean an fresh!
So at the recommendation of Heather B aka The Denture Diva, I ordered the Dr. B kit. It came in yesterday and came with way more than I was expecting. It literally included one of each of his products including a travel size Crystals solution. I've been wanting a sonic denture bath since before eday and immediates. I started out last night using the sonic denture bath and liquid crystals and this morning starting with a new ultra soft tooth brush and new denture brush using the cleanadent not only to brush my dentures but also my gums, palate and tongue followed by applying the adhesadent and I must say I'm quite impressed with the mild yet fresh flavor of it all. If only he made a mouthwash that would be great. If you'd like to try these all natural products be sure to use the DENT promotion for 20% off your first order.
Cynthia Rose
Verified Buyer
I LOVE the Cleanadent Paste & Wipes! I also only use the Adhesadent adhesive!!
I love your products. Especially the wipes lol.
"I have your whole Denture Kit and it's been sooo life changing for me! I looove the sonic cleaner! keep the amazing Cleanadent Wipes in my purse for when I am out, I just can't go without your products anymore! I gave away all my ""other"" products I've bought in the past 4 months because when I ordered your Denture Kit and tried them ALL I knew I'd never go back to anything else! Keep up the amazing work! I refer everyone I come across to Dr. B Dental Solutions, You're the best and thank you! "
Annette C
Verified Buyer
Only products I will ever use, I will be a Dr. B Dental Solutions customer for life! Their whole line works amazing. The Cleanadent Wipes for on the go hygiene are the bomb. All FDA approved. I can not recommend these products enough. Tight hold all day, super easy to clean up and safe to use.
Michael Anthony Fasulo
Verified Buyer
I want to THANK Dr. Berland for creating these products, they are a game-changer for me, I have Lupus and am unable to make my own saliva, and THESE products are the only ones I can use, after their "bath" my dentures feel like the first day I got them, so clean and fresh. The bath is nice too, well, mine WAS good, then I dropped it off the kitchen island, and it broke, insert sad face, but seriously I will NEVER buy products off the shelf anymore EVER. I especially like the Clean-A-Dent wipes, I always have a few in my purse, you can use the restroom, clean them up and no one needs to know! How cool is THAT?!?!?
I love Dr. B's Dental Solution! Every product they make is fantastic! I have had issues with thrush every since I got my upper denture, and Dr. B's products are the only products on the market that have helped to alleviate it. Also, Dr. B and the entire staff are so friendly and always available to answer any questions; their customer service is A+. I give 5 stars to both Dr. B's Dental Solution's products and their customer service! Thank you guys so much for making my denture and implant denture journey so much easier! 💕❤️ You guys rock!
Stephanie S
Verified Buyer
There aren't enough words in the history of forever to explain how life-changing Dr. B's products are. Every single product they've created was done with the user in mind rather than the profit they could make. I suffer from an extreme gag reflex sensitivity to a point where the doctors thought it so extreme that it would be impossible for me even to be able to keep a denture in my mouth because of it. I tried every adhesive you could think of, but none worked because I couldn't handle the taste or residue left on my gums when I took them out. I felt defeated, but then someone recommended Dr. B's. Not going to lie, I almost didn't try it, thinking it would just lead to another disappointment. BOY WAS I WRONG. Even in the first use of adhesive, I could see the difference. I only had to use a pea-size amount to keep my plates where they should be for hours without reapplying, and it didn't trigger my gag reflex because there was no overspill, and it wiped off so quickly afterwards, and there wasn't a disgusting chemical taste. The toothpaste makes your mouth feel squeaky clean and is mint, so it feels and tastes like you're using a normal one. For me, that was a huge help for my anxiety, knowing no one would ever notice the difference if they grabbed it by accident to use.I'm absolutely obsessed with the liquid crystals. I thought I was doing a great job taking care of my plates until I saw how noticeably whiter they were after using the cleaner and ultrasonic. I'm almost 2 years in and still use everything. My dentures look as good as when I first got them, and my oral health has been perfect with the help of Dr B and the confidence he has given me knowing I can trust that they will stay secure in any situation is something I never thought I'd see again.This man changed my life, and there is no doubt in my mind that he will change the futures of every person that uses these products, and for that, I thank him. 100% would recommend.(P.S. their customer service is top-notch, I've never seen a company more dedicated to making sure their customers are happy)
Tiffanie Davenport
Verified Buyer
Dear customer service, i am almost 2 years in my denture journey and i have been using your products consistently! I am very prone to infections if you out my body and knew that this was extremely important because your mouth health affects all of your body so using your products was 2nd nature I love them all but my favorite are the liquid cleaning crystals that I use with my ultrasonic cleaner the adhesive and the toothpaste. As a single again woman back on the dating scene I also use the towelettes for cleaning they're always in my purse or my overnight bag so I guess I used all of your products and love them all. The adhesive has been amazing as I've had to be in my temporaries longer because of a fractured jaw from an assault, I knew there would be incredible shrinkage and doctor b's Adhesadent has kept me from having dentures so loose they fall out. You truly are a blessing to the entire denture community, again thank you for all the amazing products Especially during this covid19 pandemic how amazing to have something like liquid crystals that kills actual germs and bacteria and its the only thing, I feel confident knowing that I can sanitize and clean my dentures in knew that the germs not just for vibrant but for actual diseases have been killed so wonderful. I had to take a moment and tell you all with the quarantine has made my PTSD worse but to know I can take care of my dentures correctly and at a bargain is truly a blessing and benefit that we all need. It's one less thing where I have to worry about taking care of.
I received my kit so fast. I ordered on 4-18-20 and got my kit today 4-22-20! Thank you so much!!! It was like Christmas and immediately tried it out and already love it and the adhesive is so amazing (6 hrs in and hold strong)nothing else has worked to keep my teeth in! I was able to actually eat with my teeth not moving around!! I have lupus and have gotten thrush so much and Im so excited to try this product!!! Thanks again!!!!
Best products I have ever used. It is unbelievable how good it works. Get some today, you won't regret it.
Sharon Holton
Verified Buyer
I use Dr. B's line of products and am so happy with the way they work. I have to travel occasionally and I love that the sonic cleaner is compact enough to pack. The real jewel has been the addition of the travel size Cleanadent crystals. And the wipes? Game changer!!
In the last year, I lost all my teeth. The hardest thing for me was a thought of wearing dentures. I knew nothing about it and had to do a lot of research. Before my doctor at Clear Choice took out and put in my new teeth, he gave me a package that had all of your products in it, so I had a start. I came home and looked you up and read all I could. One of the things that you have helped me with is my dry mouth. It was a big problem, but now with the Adhesadent things are a lot better! Thank you for creating such an amazing product!
Andrea Griffin
Verified Buyer
I ordered the adhesive first as I just had dental implant surgery and am healing still. I am soon placing an order for the whole kit! I received sample sizes of the cleanadent crystals and the wipes and LOVE them!! When i started using the adhesive it helped my gums so much that my stitches healed MUCH faster than I expected. Super excited to try it all. I LOVE these products! I've run out and have to order more so I'm using a different product now for cleaning and adhesive and I can tell a HUGE difference. They don't feel as clean and my skin is irritated. I can't wait until my order is placed and arrives!
The best products I've tried for cleaning and adhesive. I love the cleaning paste also, it makes my mouth feel so clean! And their customer service is seriously AMAZING. My most recent order either got delivered to the wrong address, or got stolen off my porch. I emailed Dr B's to see what my options were. I got a personal phone call to verify my shipping information and they sent out a new package. Not only that, but they also sent me about 5 extra products and no charge. WHAT?! So amazing. Thank you Dr B and team, y'all are amazing.
Shayna J. 
Verified Buyer
Hello, I LOVE LOVE LOVE my Dr B dental product, I so love them. I also wanted to tell you how much I LOVE your new product the cleaning wipes, since I am fortunate and don't have to use adhesive, it is a great tool to get the food taste and smell off my dentures after a meal out. So thank you! Also one last question, you romised me you were working on a special tooth brush, has this come "real" yet, I am waiting with baited breath! Please watch my you tube JoBugDillon I promoted your products on the second to last one I made, I said it makes your mouth feel like it went to a spa, and I got great feedback on that, and i think you should use that as a phrase to promote your wonderful product! I am waiting until next month when I get paid to order a new ultrasonic cleaner, mine bit the dust, probably because i have it around too much water haha, I am a bit sloppy at the sink. Bless you all and have a wonderful weekend! JoAnn
JoAnn Dillon
Verified Buyer
dental Wipes ! ive been using them a few days now and i must say they are simply the Best !!! i cannot do without them im going to order a huge supply today just for myself ! i want to get the word out about these wipes because everyone hates the glue that is near impossible to remove and your wipes are a godsend !!!! thank you once again Cha Cha
Sandra McGuire
Verified Buyer
The Denture adhesive is the best I've used. Been wearing Denture over 50yrs and have never had a paste make my mouth feel fresher or easier to clean out of my false teeth. Also , Denture wipes are extremely convenient, and a product I never knew were available, but very happy to have found them.
Devanna Stopper
Verified Buyer
Hi Donna💗hope all is good. I absolutely love Dr. B's products, the only products I use from cleaning to adhesives for my lower. It's also ADA Accepted. Which for me and my doctors it's super important, especially with my lupus, Sjogrens and gastroparesis. It was so difficult trying to find the correct adhesive and the amount to use. Am so grateful to Dr. Berlands and will be ordering the wipes next week. Thank you so much and have a wonderful day💜🦋💜🦋🥰🥰
Mayra Perez 
Verified Buyer
Good afternoon doctor B, I don't belong to Facebook but I do belong to YouTube and just wanted to tell you I have every one of your products and I absolutely love them I could not live without them I clean my teeth with my Sonic Cleaner with your solution I clean my gums with your products and I use your adhesive in the next coming days I want to buy the doctor b wipes I'm looking forward to trying them just wanted to pop on here and thank you very much for all your great products
Youtube comment from Cha Cha
Verified Buyer
I've been using all the Dr B products since May '18. I would not even consider using anything else. My gums have stayed healthy and my Dentures are just as white as when I first got them and I am an iced tea and red wine drinker. Thank you Dr B. Can't wait till the wipes are released. Gail Moss
Gail Moss
Verified Buyer
"Your products are great! I love Cleanadent Paste & the toothbrush for my hybrid denture. The double-sided brush is very beneficial since I have a space between the hybrid and my gums that the smaller brush really helps with. The wipes are fantastic. I can't take my hybrid out of my mouth but, since these are still acrylic, food gets plastered to them, especially between the teeth. Brushing isn't discrete or convenient so I've been keeping the wipes in my purse to handle on-the-go cleaning!"
Kristi Lind (Kalinjax)
Verified Buyer
) When I first tried Cleanadent, I was like holy crap, why doesn't everyone know about this?!? These are epic kickass products. Cleanadent Paste & Cleanadent Wipes are amazing. The only denture products you can use in your mouth. Dr. B- you're awesome!
Heather B
Verified Buyer
I love the way my mouth feels nice an fresh im so blessed i came around this product .. i love it an recommend it 100 % for people like me.. keep up your good product dr b🤗☺️
I have been using all of your products for almost 4 years now and am glad I do My mouth feels so much better. Thank you, thank you, thank you!!!
I use all of the Dr. B cleaning products and would recommend them with 5 stars. In 14 years, I've used Efferdent, Polident, and Fixodent cleaning tablets and Polident Dentu-Creme and Fresh N Brite denture paste and switched to Dr. B products in June. Now I only use Dr. B Dental Solutions. I will never go back to the other products.
Crystal W
Verified Buyer
I also use Dr. B exclusively and I have had zero issues. No sores, not one, no dry mouth, no weird anything. I have healed perfectly and I know it's from his stuff. The only thing I use outside is my antiseptic mouthwash. That's it. Dr. B's is good stuff.
Omgosh! Dr. B is a game-changer for us denture wearers!! I use his products exclusively!!!
I kept getting Thrush right after my extractions and immediate dentures 3 yrs ago. Never again since using Dr. B products. I'm a customer for life!
I'm really young (for dentures) or so I feel I am. I'm only 34 so having to go through this whole process has been really depressing. My teeth started to fall out after cancer. But since finding Dr Bs dental solutions, it hasn't been anywhere near as bad as I thought it would be! I truly appreciate having a product that someone put so much thought and care into! Dr B supports denture wearers like me. He's such a kind man! Thank you so much! I'll definitely be placing more orders in the future!
Lorin Berland I just want to tell you that I absolutely love your products!!! I want to purchase the full package but I have to save a little more first. I have the adhesive, tooth paste, and the wipes. They are all amazing!
Just got my first kit yesterday and used the adhesive today. I am so excited. No taste, excellent holding power. I have tried so many and most of then are so gross. The paste is awesome, the cleaner is excellent. A pluses all around!! And it just take a little bit, so these products will be cost effective. I could not be happier!!!
Judy Vickrey
Verified Buyer
Great Products!
Rachael N Karl 
V
erified Buyer
O.M.G Dr. B!! Your products are AMAZING! Nothing at the store compares! I love what your products do in keeping us healthy with beautiful smiles!
I have tried so many denture adhesives & cleaning products, and nothing worked! Then I found Dr. B Dental Solutions. They have the BEST denture adhesive and cleaning products. The Adhesadent keeps my dentures tight all day, and I'm able to eat anything I want!
Absolutely love the products.. wouldn't use anything else.. my mouth feels so hydrated using your stuff vs other products
Georgette W 
Verified Buyer